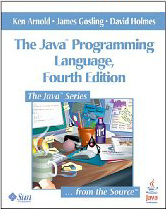 The Java Programming Language, Fourth Edition
K. Arnold, J. Gosling, and D. Holmes
Addison-Wesley, 2005

A concise introduction to the Java language cowritten by James Gosling, Javaís chief designer. Itís well written and manages to convey a lot of the thinking behind the design of Java. Coverage of the API is very limited, though, and there are few examples of complete programs.